====== Scourge starfighter ======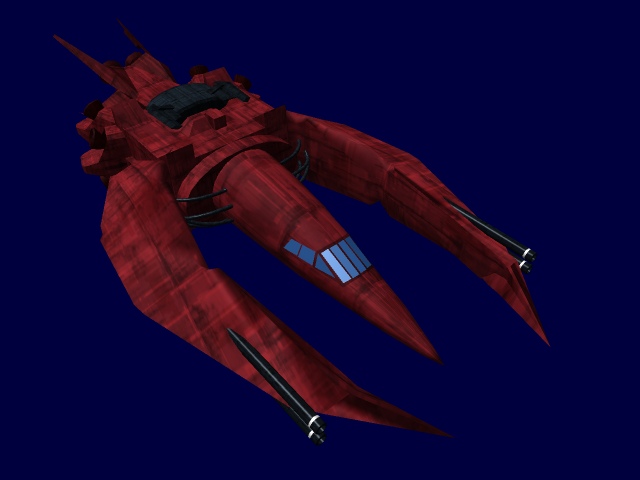 ===== 1. About the Ship =====
The scourge is a cheap-easy to mass produce ship used for mostly swarm tactics
===== 2. History and Background =====
some retarded drathonian engineer came up with it, and his dumber superiors decided to put it in production over other, better designs that were harder to produce quickly
===== 3. Statistics and Performance =====
<**Organizations Using This Vessel:**Drathonian Spacy, Army.
**Type:** Starfighter
**Class:**Scourge
**Designer:**unknown
**Manufacturer:**various drathonian factories
**Production:** around one million
**Crew:**1
**Pilots:** 1
**Maximum Capacity:**1
**Appearance:** A spindle shaped fuselage with claw like booms coming from the engine pod. The booms hold the ship's weapons and shields. suprisingly, the design gives a very clear view forward, upward and downward, but pereferal vision is quite blocked by the booms.
==== Dimensions ====
**Length:**10meters
**Width:**6 meters
**Height:** 4 meters
==== Performance ====
**Speed (STL):.40 C**
**Speed (Fold):.5 ly/Min**
**Range:2,000,000 miles**
**Lifespan:2 years at best**
**Refit Cycle:any time possible**
===== 4. Roleplay Stats and Cost =====
==== Sections and Armor Rating ====
Fuselage: Weak
Engines: Weak
Shields: Strong
===== 5. Inside the Ship =====
The pilot lays face down on a very uncomfortable (for humans anyway) bench thingy, the controls are in front of the face and partially block the pilot's view
===== 6. Ship Systems =====
==== Armored Hull and Hull Integrated Systems ====
The armor is made of some strange red alloy.
==== Computers and Electronics ====
Very basic fly-by-wire systems are added
==== Emergency Systems ====
none
==== Life Support Systems ====
An onboard air-recycler can clean the air for 12 hours
==== Propulsion ====
A very cheap ion engine and a reverse-engineered warp drive power this vessel
==== Shield Systems ====
About 4 seperate shield generators provide very good shielding for this fighter
==== Weapons Systems ====
Anything that can be slapped on, from ion cannons, to chainguns.