====== SF-X-22 "Scimitar" ======
===== 1. About the Ship =====
This fighter was designed to be small, light, manueverable and fast. the design is semi-modular to accomodate many different armaments. it's primary purpose is anti fighter.
===== 2. History and Background =====
With most of terra's fleet destroyed by the drathonian betrayal, a hodgepodge of fighter types and shuttles were utilised as a fighting force. need for change came when terran losses became so horrendous as to cause all terran ships to retreat to Altres or terra IV. Due to this, terran engineers designed the perfect multirole/space superiority fighter to give strength and uniformity to the Terran fleet's fighter corps.
===== 3. Statistics and Performance =====
**Organizations Using This Vessel:Terran republic**
**Type:starfighter**
**Class:SF-X-22A, B, C**
**Designer:Terran Republic**
**Manufacturer:ARWW, Terran ships**
**Production:25,000+**
**Crew:1**
**Pilots:1**
**Maximum Capacity:1**
**Appearance:small egg-like body with rear swept wings that have pods on the end. wings end past the fuselage. modular in design so minor details are subject to change.
The B version has sharper, more industrial lines than the A and more exposed weapons, as well as wheels instead of skids. the engine compartment is covered by a larger cowl which adds slightly to the armor.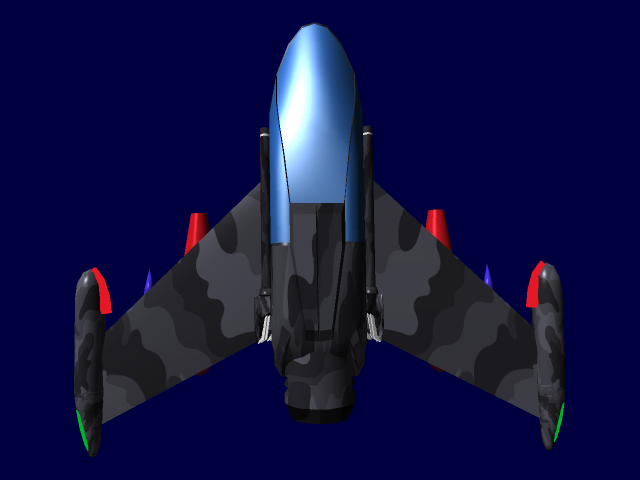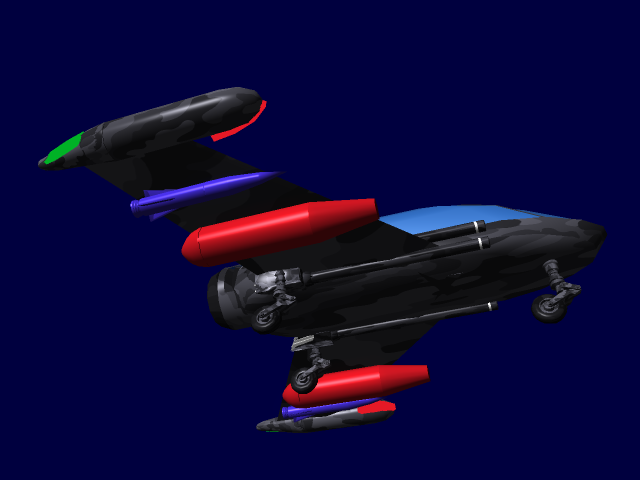 The C version has all the changes of the B version, plus extendable tail surfaces. It has a different type of engine which gives it a slight decrease in vacuum control, but vastly increases its capabilities in Atmosphere.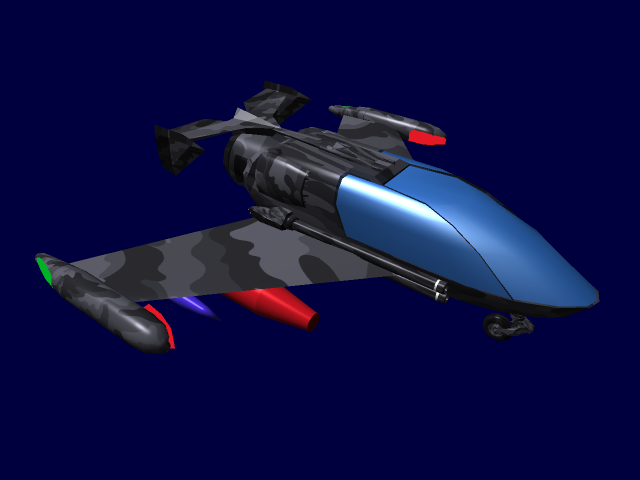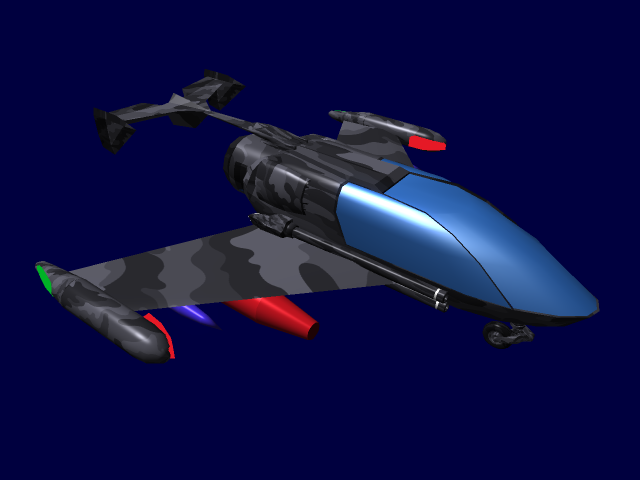 **
==== Dimensions ====
**Length:fuselage:3 meters, nose to wingtip: 4.5 meters**
**Width: wings unfolded 4.55 meters, wings folded 1.7 meters**
**Height: wings unfolded 2 meters, wings folded 3 meters**
**Decks:1**
**Weight:16 tons**
==== Performance ====
**Speed (STL):0.55C**
**Speed (Hyperspace Fold):10.0 ly/m**
**Speed (arial): mach 9**
**Range:5 days at max speed**
**Lifespan:10 years**
**Refit Cycle:once every 6 months**
===== 4. Roleplay Stats and Cost =====
==== Sections and Armor Rating ====
Fuselage-Medium
Wings- Medium
engine- Medium
Shileds- Medium
===== 5. Inside the Ship =====
The pilot sits in the cockpit in a semi reclined seat. the controls are a double set of joysticks, one on each side. it is controlled similar to a present day bobcat. the cabin is pressurized and has artifical gravity to
combat g-forces. the canopy is made from transparent duratanium. there are numerous volumetric displays showing information from the sensors inside and outside the ship.
===== 6. Ship Systems =====
==== fuselage ====
The fuselage and wings are compsed of duratanium plating. there are 12 hadpoints on the ship. 4 on each wing, 4 at the wing roots and 2 on the nose.
==== Computers and Electronics ====
SF-OS: the SF-OS is an operating system designed specifically for this fighter.
Pilot's Helmet: the helmet is wirelessly linked to the SF-OS and can interpret Thought signals, making piloting easier.
==== Emergency Systems ====
Emergency eject:there is an emergency eject button for extreme emergencies.
Distress signals:the OS automatically sends out distress signals when necessary, unless it is disabled.
Distress beacon: the pilot's helmet has a built in distress beacon.
==== Life Support Systems ====
Air Recycling System: The air of the SF-X-22 is filtered through a Co2 scrubber which purifies it with great efficiency.
Pilot's helmet: the helmet features a built in HUD and in an emergency can keep the pilot alive in a vacuum for several hours, provided the pilot does not freeze/burn to death
==== Propulsion ====
Dynamic Thruster Drive: A network of small front, rear, lateral, dorsal, and ventral thrusters. These thrusters permit very swift and erratic, yet calculated movement in battle. as such, The SF-X-22 can move in very
unpredictable manner. In addition, if ever needed, the ventral thrusters can be used to achieve vertical landing and take-off.
High Energy Plasma thruster: The SF-X-22 uses an extremely powerful high energy plasma thruster for its main propulsion. This thruster uses funneled energy from the Energon drive which is condensed into a state of plasma and funneled through the thruster.
Propulsion: The fighter propels itself at speeds many times the speed of light by use of a Micro-fold drive. This allows the fighter to travel thousands of times the speed of light.
====Power supply====
The Scimitars are Powered by an Energon drive. those not originally made with one have been retrofitted to utilise it.
==== Shield Systems ====
Shielding: The scimitar has an immensely strong shield for a craft it's size, allowing it to take more hits than a conventional fighter of similar size would. The shield will also regenerate after a hit given enough time.
==== Weapons Systems ====
weapon systems are modular and up to the end user. anything that fits on the hardpoints will work as long as it is capable of communicating with the SF-OS.
=== Main Weapons used ===
Turbo lazers-stock
Micro-missile pods-stock
Chainguns-common
Cruise missiles-uncommon
Jamming pods-uncommon